Become A Balloon Alert Ambassador!
No matter where you live you can help marine life. How? By educating others in your community about the dangers of balloons to marine life. We invite you to become a Balloon Alert Ambassador!
When balloons are released into the air, they can travel hundreds of miles before they pop over a waterway such as a lake, creek, stream, river, or ocean. Once in the water, they resemble food such as jellyfish. Sea turtles are especially vulnerable because their favorite food is jellyfish. Balloons floating in the water, resemble jellyfish and they are mistaken for food. It is impossible for turtles to spit out a balloon or plastic bag if they eat it and it plugs up their stomach and leads to death.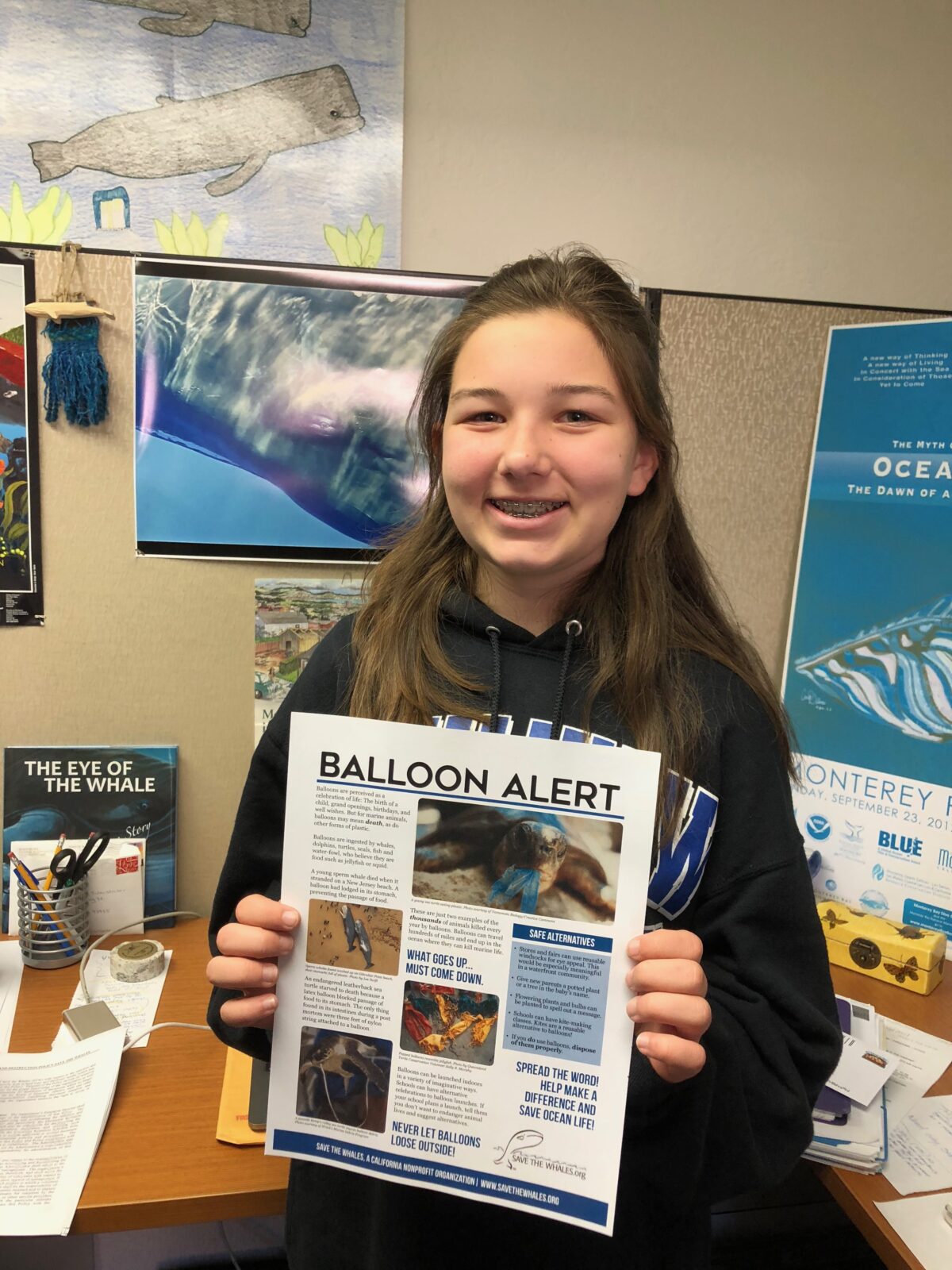 Meet Avery, our young Balloon Alert Ambassador. She is making a difference to help marine life. She printed the Save The Whales Balloon Alert flyer, and is going to individual classrooms in her school to tell her classmates about balloons. She is doing this as her community service project and plans to reach out beyond her school, and go to other schools. She will also go to local fairs and events to educate people in her community! Thank you for making a difference!
Email us with your story about being a Balloon Alert Ambassador in your community!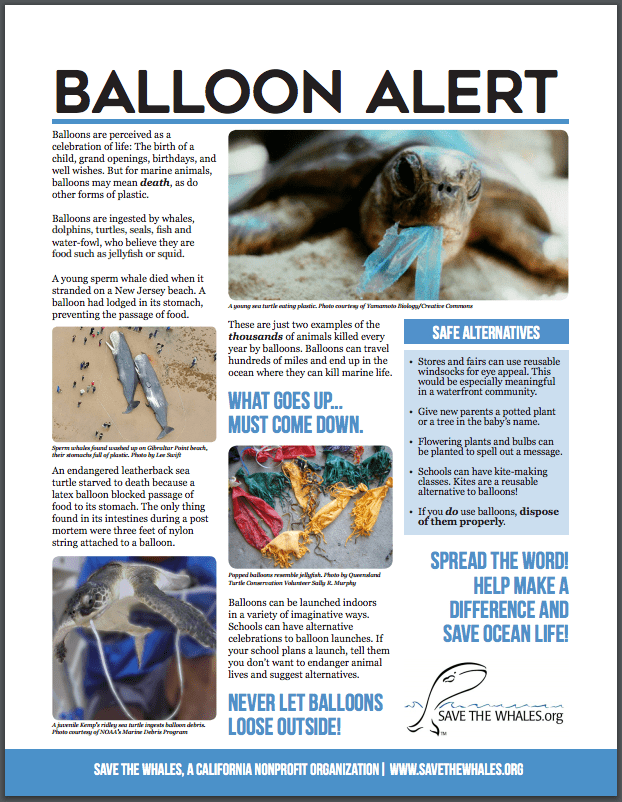 Download this flyer to distribute. Thank you!
---
ALERTA CON LOS GLOBOS
Los globos de colores se perciben como una celebracion de la vida: el nacimiento de un nino, inauguraciones, ferias, cumpleanos, aniverarios entre otros.
Sin embargo, para los animales marinos, lob globos al igual que otras formas de plastico pueden significar la muerte. Las ballenas, los delfines, las tortugas, las focas, los peces y otras formas marinas inocentemente se los comen creyendo quo son alguna forma de comida como una medusa o un calamar.
En una playa de New Jersey varo un cachalote moribundo. Un globo se habla alojado en su estomago e impedfa el paso de la comida.
Una tortuga laud (una especie en peligro de extincion) murio de inanicion porque un globo de latex impidio el pasaje de comida hacia su estomago. Lo unico que se encontro en sus intestions al realizarse una autopsia fue una cuerda de nylon de tres pies amarrada a un globo.
Estos son solo dos ejemplos graficos de los mies de animales muertos cada ano por los globos.
UNA VEZ QUE SABEMOS QUE LOS GLOBOS TRAEN LA MUERTE, PODEMOS ACTUAR.
Las tiendas y las ferias, tales como las ferias de arte, pueden usar los multicolores calcetines de viento, son atractivos y reutilizables. Esto serfa particularmente importante en comunidades cercanas al mar.
Se podrfa enviar una planta en una maceta a los nuevos papas o se puede plantar un arbol en nombre del bebe.
Digalo con flores: en lugar de utilizar flores cortades se puedo plantar bulbos o plantas florales.
Los ninos pueden tomar clases para fabricar papalotes, son la alternativa reutilizable a los globos de colores. Se pueden realizar sueltas de globos bajo techo de maneras imaginativas. Las escuelas deberfan tener celebraciones alternativas a la suelta de globos. Se su escuela planea una suelta de globos digales que. Ud. no desea poner animales en peligro y sugierales alternativas.
Peter y Susan HIbbard del PROYECTO ALERTA CON LOS GLOBOS nos cuentan de una escuela que hizo una suelta de globos en una biblioteca. Dentro de caca globo estaba el nombre de un estudiante, el estudiante cuyo nombre estuviera en el ultimo globo en caer al piso ganaba un premio.
Si Ud. utiliza globos de colores, deshagase de ellos de manera apropiada. Nunca suelte los globos en la atmosfera. Aun los globos soltados lejos de las costas pueden recorrer grandes distancias y terminar en los oceanos.
Cuentale esto a tus amigos. Es una manera sencilla de hacer una diferencia y ayudar a salvar la vida marina.
---
SAVE THE WHALES, A California Nonprofit Corporation
14040 Reservation Road
Salinas, CA 93908
www.savethewhales.org