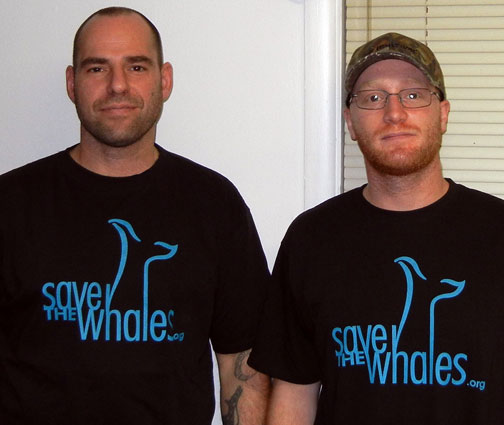 Jason Vonick and Nick Segal
November 2013
Alaskan Shrimp Fishermen Heroes Update
Prince of Wales Island, Klakas Inlet
Jason Vonick, and his fellow fishermen, Nick Segal and John Oakes, owner of the fishing vessel, "Miss Mary," are heroes for spending hours rescuing a female orca stuck on rocks while chasing a seal. A YouTube video shows Jason and Nick keeping her calm by stroking her and splashing her with water to prevent her skin from drying out. However, when the tide began to rise, she was still stuck and now she was in danger of drowning. Knowing they had to do something fast as water was entering her blowhole, they found that by applying a great deal of force with oars from their skiff under her pectoral fins, they were able to budge and eventually free her. She was identified as TO68C1, a six-year old female.
Jason has provided additional information provided by the Marine Education and Research Society of Canada. The three fishermen were apprehensive of the large orca, a presumed male, staying close and swimming back and forth all the time the young whale was stuck. It was determined, after a closer look at the videos, that it was a family group TO68C. The large orca is the stuck orca's mother, and the smaller whale, T068C3, is a one-year old sibling. The group had another calf, a white killer whale T068C2, now deceased.
These three men did a great deed by taking the time to respond and save the young female and keep her family intact. Family bonds amongst orcas are very strong and they stay in close proximity to their mothers their entire lives.
For more information on Canadian orca research: http://www.mersociety.org/KWTcat.pdf and the TO68C family is on Page 66.
Jason requests that any contributions be made to the Sitka Sound Science Center's Whale Research Department at www.sitkascience.org/donate and click on one of the amount icons which will take you to PayPal.
Save The Whales sent each Whale "Hero" a T-shirt for rescuing T068C1.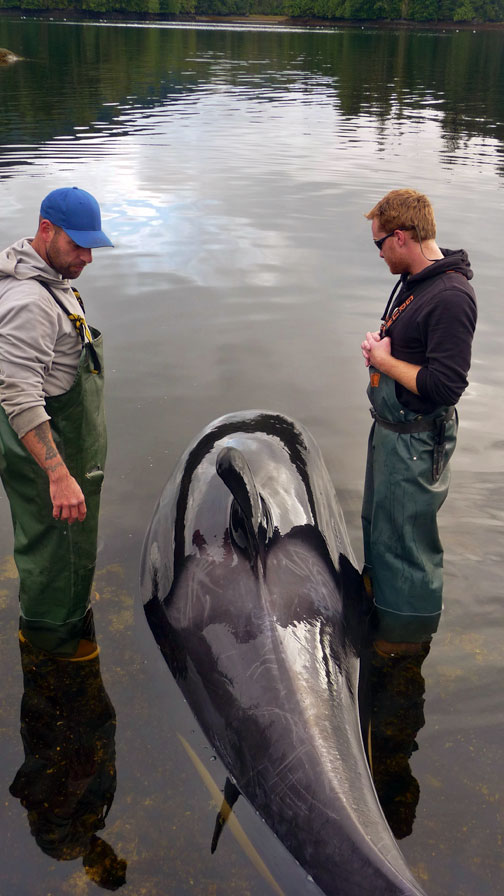 TO680C1 stuck on rocks with
L - Jason Vonick, R - Nick Segal
---
Dolphin Rescue by Keller Laros
January 11, 2013
Dive #10,146. Manta Ray Night Dive, Garden Eel Cove
During the manta ray night dive, I heard a loud, almost piercing noise. A dolphin squeak! I turned to look and was confronted with a bottlenose dolphin approximately 20 feet away and moving towards the assembled divers that were watching the manta rays.
Since moving to the Big Island of Hawaii in 1991, I've been a dive guide on literally thousands of manta ray night dives for Jack's Diving Locker. It wasn't until a few years ago that we began to have an occasional encounter with bottlenose dolphins during the dive. Usually in twos and threes, the dolphins often announce themselves with high-pitched squeaks that alert the observant divers to look for them. Sometime you hear the dolphins and never see them. Sometimes you see them swim through a group of manta rays feeding above the divers' lights. Once I even saw several small groups of dolphins mingling out in the deeper water. But there have always been at least two dolphins. Social creatures, dolphins seem to enjoy camaraderie.
This night, it was just the solo dolphin that swam slowly around the scuba divers on the bottom. I rolled video of the dolphin as it swam past the divers and manta rays.
As the founder of the Manta Pacific Research Foundation, a 501c non-profit organization dedicated to research, education and conservation of manta rays, I use my camera to record the manta rays and capture images of the spot patterns on their abdomens. Each spot pattern is unique, and I use the images to identify and catalogue the manta rays of Kona, Hawaii. To date we have over 200 mantas in our database. This evening, I videotaped the dolphin as it swam by, and I noticed that there was a tangle of thin clear monofilament fishing line coming out of the dolphin's mouth encircling the left pectoral fins and trailing down its side.
The most common injury I've observed on manta rays is the result of entanglement in fishing hooks and lines. Fishing line can be very sharp and can cut and seriously injure marine life. I've successfully removed hooks and lines from manta rays, turtles and fish. I once even tried to remove a hook and line from a white tip reef shark with no success. This, however, was the first time I'd ever seen a dolphin with a hook and line. Having seen the severe injuries and damage fishing line can cause, I knew I needed to help the dolphin. I spoke into my regulator, "Oh there's a fishing line, you've got a fishing line," and gestured with my left index finger to come here.
This is where it got really interesting to me. I always figured if you say, "come here" to your pet dog, they will come. I never figured that the dolphin would respond though. Was I surprised when it swam right over and positioned itself with the tangled fin directly in front of me? At this point I was still rolling video, but I knew I'd need both hands so I dropped the camera and went to work. I saw thin fishing line coming out of the dolphin's mouth. Running down the left side of the body, the line encircled the pectoral fin twice with a hook embedded in the fin and more line trailing off behind. I tried to unwrap the line but it was too tightly wound and was cutting into the front and back of the fin. It must have been painful, and I didn't want to further injure the dolphin. A large and powerful animal, the dolphin was larger than my 6'4" frame and probably a lot stronger too. I was able to pull the small hook out easily but was not able to break the line with my hands.
As a PADI professional scuba instructor, I always carry proper scuba equipment including a dive tool. Mine is a combination knife/scissors called a "Fog Cutter." I almost never use my knife and though I rinse my gear in freshwater daily I was worried the blade wouldn't be sharp enough to quickly cut the line without further harming the dolphin. I decided to try the scissors.
My adrenalin was pumping as I first snipped the line where it came of the mouth. This done, I was able to unwrap the line and pluck it from the pectoral fin. All the while, I was trying to maintain a calm and reassuring posture for the dolphin.
After clearing as much line from the wound as I could, the dolphin went to the surface to breath.  It came back down and seemed satisfied with the work I'd done. It departed with its fins free of the fishing line.
In my many dives I've been fortunate enough to have memorable encounters with marine creatures. Octopuses, turtles, mantas and sharks all provide thrilling opportunities to observe and sometimes even interact with. What really made the dolphin rescue great was the emotional connection that it delivered. I've seen captive dolphins jump and take a fish out of the trainer's hand. It's a trick they perform for food. This was entirely different.
The dolphin needed help. The dolphin knew where help might come from. The dolphin chose to present itself to us and asked for desperately-needed assistance. At the time I didn't think about it at all, I just did what was needed. In hindsight, the dolphin and I shared a moment: It asked and I responded as I would for a human asking for help. The emotional connection was and still is very tangible to me.
I have an eye for human faces and additionally I can recognize many manta rays by their spot patterns. Before that night all dolphins sort of looked the same to me. Now they are individuals. This dolphin has a white mark above and behind the left eye. I've seen it again several times and I don't know if it recognizes me, but I know the dolphin. I'll always remember the night I rescued the dolphin.
Below are links to Keller's business affiliations and a YouTube video of dolphin rescue:
www.mantapacific.org
www.jacksdivinglocker.com
http://www.youtube.com/watch?v=2gvgkHSyKFE
---
Mark Anello, Pete Miller, Lynn McGowen – Bodega Bay, California
June 2012
Fishermen Save Life of Endangered Gray Whale Traveling with Calf
Three crab fishermen out of Bodega Bay in Northern California spotted colorful buoys that were slowly traveling in the water by their boat. Moving closer, they saw that the buoys were attached to a large gray whale entangled in netting and almost motionless.
The buoys had been fastened to the whale by the Marine Mammal Center in an earlier rescue attempt off of Orange County in Southern California, but she got away before she was completely released. The rescuers had nicknamed her "June."
Days later she was sighted off the Big Sur area in Central California. Boats from the Whale Entanglement Team, Monterey Bay Marine Sanctuary and Monterey Bay Aquarium searched for her as far north as Davenport, CA but no sighting was made. Days passed without a sighting, and we were beginning to feel that June's story could end in tragedy.
That's when the three fishermen in Bodega Bay saw the buoys barely moving were attached to a whale. They moved their 48-foot vessel as close to her as possible and Captain Mark Anello and two crew members, Pete Miller and Lynn McGowen, pulled alongside her. Using 12-foot, bamboo poles with hooks on the end, the three men spent 90 minutes freeing June. When disentangled, she took a lap around the boat, surfaced and took off. A calf that had remained nearby left with her.
The boat captain's father, Tony Anello, said that she seemed to be saying "Thank You."  We thanked the crew for saving her life by sending them Save The Whales T-shirts.
---
Alfonso Chavez, Lima Peru
June 2008
On Friday June 20 an adult humpback whale was seen very close to the shore in the Punta Sal beach in the north of Peru, and it was obvious that the whale was heavily entangled with fishing net.
While local fisherman were getting ready to kill the whale and cut it for food, Alfonso Chavez, who is an experienced free diver, with the help of his boat captain Jorge, got close to the whale. Alfonso dove into the water and the whale was very calm while Alfonso started to cut the net with his knife. Alfonso was in the water working for about two hours, clearing the head and lateral fins.
He had almost finished cutting the last part of the net on the whale's tail, when apparently it made a fast move with its tail and hit him on the back of his head. The blow to his head made him unconscious for an instant, but he managed to remove his weight belt and get to the surface. Here, he was rescued and taken to Lima by an ambulance airplane.
Alfonso was very lucky because he had only suffered damage to a couple of cervical discs. The poor whale could not recover, and the next day the whale was finally sacrificed by the local fisherman and cut into pieces.
For his efforts, Alfonso will receive a Save The Whales T-shirt.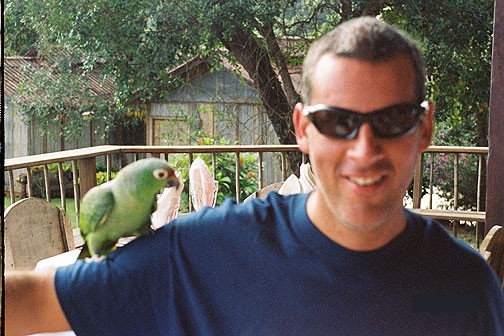 ---
Dozens of Stranded Whales Saved
by Fishermen in Africa
May 2008
In Yoff, Senagel, fishermen dragged dozens of stranded pilot whales back out to sea in late May. Unfortunately, at least 20 more died on the beach after coming ashore.
During the night, more than 100 pilot whales beached themselves overnight at Yoff, a traditional Lebou fishing community on the Cap Vert peninsula, mainland Africa's most westerly point.
Fishermen from the area labored through the night to move the animals back to sea from the sloping sandy beach. They attached ropes around the animals black bodies and used their brightly colored open wooden boats known as "pirogues."
All of the fishermen were called out to help save the whales, said Iba Dieye, a local fisherman from Yoff. They got about 20 whales back into the water with ropes, their boats and hands. The whales still on the beach were dead.
Hours after the stranding occurred, local adults and children were still trying to haul some of the remaining live whales back into the waves. Curious crowds gathered during the day to view the carcasses of dead animals. Mobile phones were used to take photographs. Children played on the carcasses, dousing them with water to create a slippery slide.
Local fishermen said they would need government help to remove the dead whales from the beach as they feared the rotting carcasses could cause disease and infection.
Kabore Alassi, a professor from Dakar's Veterinary School, said "All animal carcasses should be destroyed and shouldn't be eaten. But this is Africa, and if the area is not secured, people are tempted to cut off a piece of flesh, some for their animals, like their dogs, and some to eat themselves."
Some whales carcasses were dragged off. Local experts said a similar mass beaching of whales had occurred at the same spot some 30 years ago, and some residents had fallen ill after eating meat from the dead whales.
"It's like a collective suicide. Even when you push them out, they still keep coming back," said Ali Haidar, president of the Oceanium marine conservation organization in Dakar. "It's something to do with their navigational and orientation systems getting disturbed," he added. Haidar said that when around 250 whales beached on the shore in neighboring Mauritania two years ago, experts believed the animals had been disturbed by offshore seismic and sonar exploration by international oil companies. The sonar systems of submarines patrolling or involved in military exercises could have a similar effect on whales. Another possibility was that the pilot whales had been driven ashore by chemical pollution in the water.
Source: Reuters News Service/from a story by Emmanuel Braun